SING THE ROSARY
Calling all Rosary Warriors!🙏I am so excited to announce the launch of my new project, "SING THE ROSARY." The mission is to share the power of prayer through song while leading people closer to Jesus! I am humbly asking for your help in making this project a reality. Your donation will cover the cost of recording and manufacturing CDs. The CD will be FREE for everyone who wants a copy and will be available anywhere you stream music and on my website when the project is complete. Thank you for your prayerful consideration. Mama Mary, Pray for us! Choose your donation level below.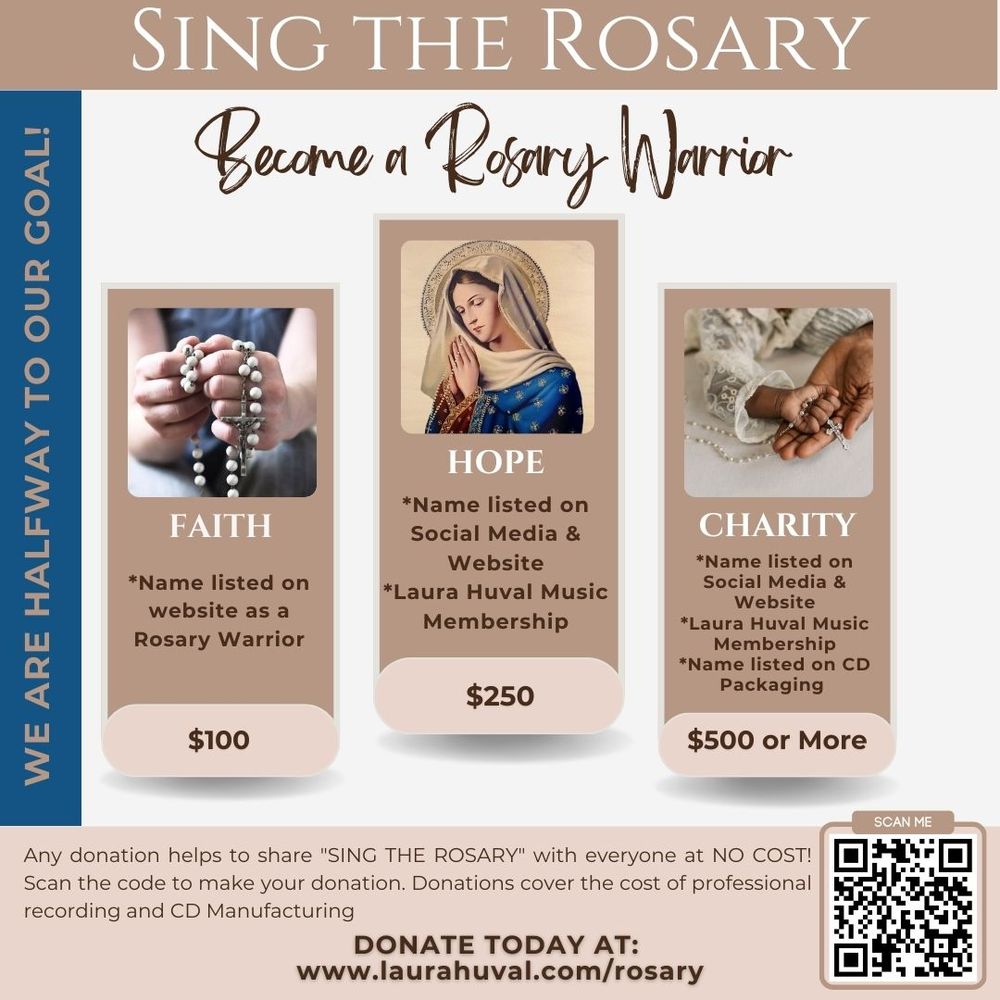 DONATE TO "SING THE ROSARY"
Calling all Rosary Warriors!🙏 Donations to "Sing the Rosary" cover the cost of professional recording and CD Manufacturing. Join in sharing the Rosary in song to all at no cost, while drawing people closer to Jesus!
Enter the amount you wish to donate
You can also make a donation by mailing your donation check to: Laura Huval Music LLC, Post Office Box 667, Cecilia, LA 70521
INSPIRATION BEHIND "SING THE rOSARY"
DONORS
$100 FAITH
Debbie Guidry
Cliff & Monique Roberts
Priscilla Leonards
Pat & Courtney Pourciau
Loretta & Ruckle Gautreaux
Claire Dooley
Sen Tanh
Ginger Huval
Yen Do
Donovan & Rose David
Paula Roberts
Georgie Blanchard
Suzanne Babineaux
Kayla Berard
Lula Segura
Glenn & Jennifer Angelle
Rene & Tera Simon
Jessica Guidry
Damon & Tonia Cormier
Carla G. Rutherford
Dudley & Ellen Fruge
Penni Guidry 
Georgia Duplechin 
Darin & Sheli Domingue
Renee Nugier
Lisa Saltzman
Darryl Sterling 
Melissa Vincent- Behold Catholic Ministries, Inc 
Lisa & Rocky Sonnier 
Charlene Roy 
Luke & Sue Welch 
Kat LaVasseur 
Yvonne & David Cameron 
Jeremy & Alexa Marie Broussard 
Angela Trahan 
$250 HOPe
Shane & Misty Thibodeaux
Buddy & Tammy Scrantz
Stacy & Bruce Montesano
Ella & Ronald Goulas
Michelle Melancon
Tim & Lynne Calais 
Matt & Sonia Sonnier
Tracy Laurent
Jeremy & Ashley Price
Rhonda Guidry  
$500 charity
Dr. Opal E. LeBlanc
Bertha Guidry
Andrea Guidry 
Bob & Dolly Lemaire